Customer Reviews
07/12/2020
Cheyanne K.
United States
So refreshing
I absolutely love anything from PSL, but this is one of my favorites. I'll never go back to wax candles after having these amazing soy candles permeate every inch of the room I light them in. The cactus blossom is so fresh and sweet without being overpowering. Not to mention, the cracklings from the wooden wick just put the icing on the cake of the candle experience. :)
07/11/2020
Katie E.
United States
The beginning of a beautiful love story
Cactus blossom was the first Pearl Street Lights Candle I purchased at the Big Wonderful in Colorado. I was amazed at the strength of this enchanting fragrance. Since then, I have only bought PSL candles, from the labels on gorgeous jars, the crackling wicks and quality of scents these are by far my favorite candles ever.Also, learning about how the candles are made providing jobs for people who might have difficulty finding work confirmed this company is just as sweet as the candles are.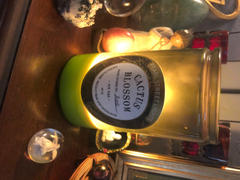 07/11/2020
Susan
United States
Best candle ever!
Pearl Street Lights makes the best candles! Cactus Blossom is one of my favorites. Such a great summer scent and color! Scent is clean and refreshing.
01/20/2020
Kate
United States
one of my all time favorite candles
not only is Kerry's customer service excellent, her candles are amazing. this is one of my 2 favorite scents (although I've only tried 7 so far, so I have a few to go.) I've reordered this multiple times. thank you Kerry!
11/04/2019
Bianca R.
United States
Cactus Blossom Candle
Favorite scent! Picked it up just before leaving the Downton Denver stop. Lasts a long time and the scent gets stronger with time.